Tasha Stevens – NEWS ANCHOR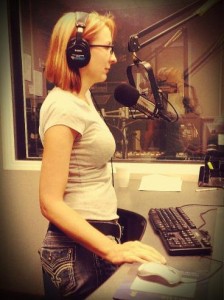 My love affair with radio began the first time I heard Queen on the radio. My love affair with news began at the age of 5 while on a field trip to the Louisiana Governor's Mansion. It was at that time that I asked then Governor Edwin Edwards how much the gaudy chandelier in the foyer cost. Everyone laughed nervously. I had no idea that I had just asked my first question as a reporter.
Over the past 22 years, I have been a News Director for a heritage News Talk Station and I have hosted morning shows on Country, Top 40 and Oldies formats. While working in Rock Radio, I sat with Kid Rock in his dressing room discussing politics and crazy ex-girlfriends and I hung out with Aerosmith's Joe Perry at a south Louisiana crawfish boil. Hosting a morning show on an FM Talker in New Orleans gave me the opportunity to challenge the minds of those who survived Hurricane Katrina, along with the mind of Karl Rove, the political force behind President George W Bush.
My radio diversity mirrors my personal life. I wear ripped jeans and listen to Iron Maiden, but I also wear Tony Lama's and Two Step at Billy Bob's. I love a great steak, but I also love my Texas Longhorns that call my pasture home. I love the smell of new paint on the walls but I also love the smell of my old house that holds many secrets. I love wine and cheese, but my version has Rotel mixed in.
I was born in southern Georgia, grew up in southern Louisiana and finally made it back to the state where my grandparents were born and raised.
God has blessed me mightily with my family, my seven adopted dogs, my home in the beautiful Texas countryside and my life in the United States of America, the greatest nation in the world.