Tony Purcell: Agri – Business Director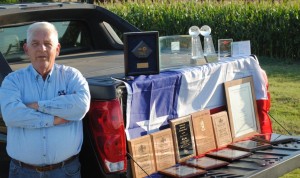 Tony discovered his passion for broadcasting early in life and developed skills that would make a significant impact on his career. His first broadcast job was during his sophomore year in high school in Hutchinson, KS – producing newscasts and tending to the automation system at a local radio station. After high school, he entered the U.S Army and became the commanding officer for a psychological warfare radio station. As he continued to follow his passion, Tony took several disc jockey jobs in small and medium size markets, holding TV positions as a reporter, photographer, news producer, and news director in Texas & Kansas.
Tony joined Texas State Networks in 1998 and has since come to define the network through his award winning reporting. Tony has helped garner the network a #1 ranking in the AMR ratings, won 4 "Oscar's" in agriculture, six NAFB "best newscast" honors, and seven in the latter's "best market cast" category.
Tony and his wife Jeanie reside in Lowry Crossing, TX. They have 4 children and 3 grandchildren.  Tony has served on the board of directors for a rural water district and has been a member of NAFB for 21 years.