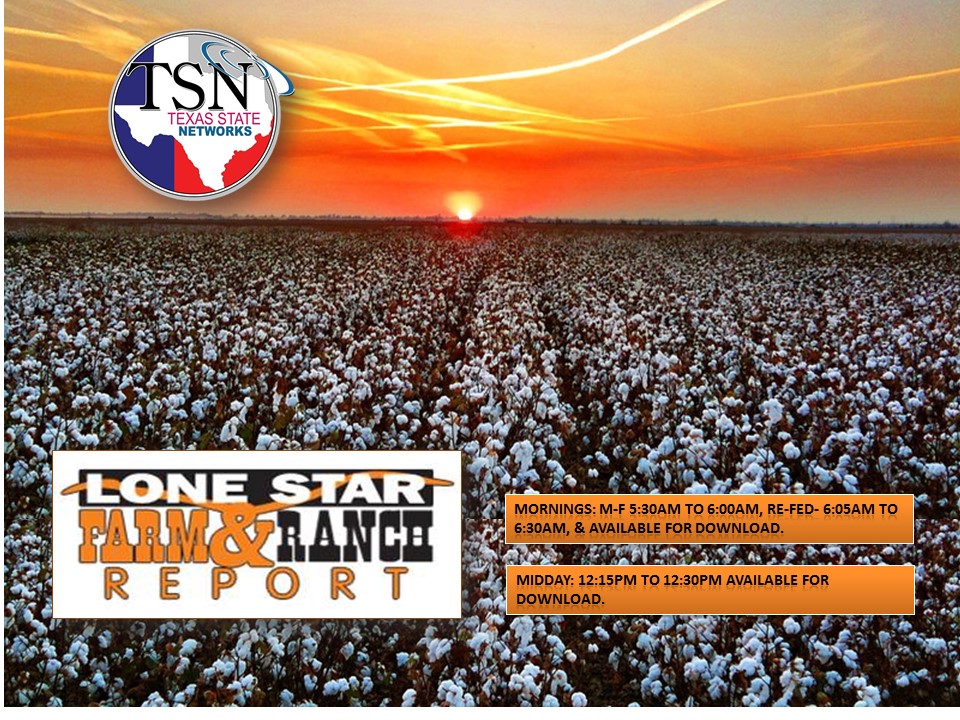 Lonestar Farm & Ranch Morning
Every Monday-Friday  at 5:30am. TSN Agri-Business delivers the award-winning Lone Star Farm and Ranch Morning Report.  LSFR is the  #1 network  source for farm news, market updates and weather conditions that could affect growers' experience.   TSN's Agribusiness programming is LIVE and timely  providing the latest commodity prices, USDA updates, crop reports, along with  interviews with Secretary of Agriculture and others. TSN Agri-Business Director, Chuck Martin, has been named one of the  best  in the business for keeping  Texans  informed on the latest news, weather, and commodity market reports  that affect our State.
Lonestar Farm & Ranch Middayis an update of the commodities markets (cotton, livestock and grains) and Agri-business news. TSN AG  gets both cash and future market reports as well as analysis of why the markets act the way they do. The program is fed at 12:15pm to 12:30pm and is available for download.
Texas Cotton Report – Morning program analyzes previous day's cotton trade, futures & cash markets, while the afternoon report updates the current market situation. The report is available starting at 6:45am or available for download.
Closing Commodities – A wrap-up of the commodities future trade, which include cotton, grains, cattle, hogs, & energies.
Ag Minutes – 4 one minute feature starting at 10:35am, 11:35am, 1:35pm. 2:35pm gives your listeners agri-business updates throughout the day.
TSN's exclusive, "Shoot the Bull"   TSN Ag-Director discuss the latest in Texas Agriculture business & news. The feature is fed daily at 11:45am & is available for download.
Texas State Networks offers a complete agri-business programming that your station can build around. There is available local inventory in long-form programming to help increase your station's revenue. For more information please email: mailto:Raul.Jaurequi@audacy.com or call: 214.525.7223