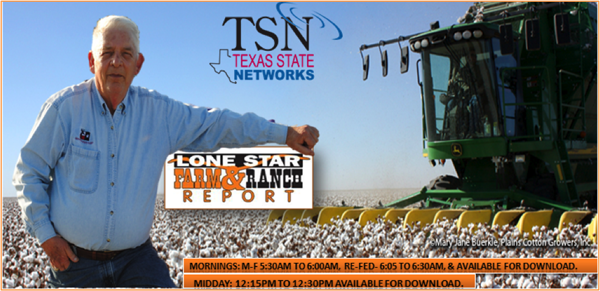 Lonestar Farm & Ranch Morning is the most listened to Farm report in the state of Texas according to the 2013 AMR ratings. Beginning at 5:30am each Monday through Friday, listeners get 24 minutes of news, weather, and commodity markets with award winning Agri-Business Director Tony Purcell and staff meteorologist Dan Brounoff. TSN agri-business news will quickly become the farmers and ranchers #1 source of information. The program is re-fed at 6:05am and available for download.
Lonestar Farm & Ranch Middayis an update of the commodities markets (cotton, livestock and grains) and Agri-business news. Tony gets both cash and future market reports as well as analysis of why the markets act the way they do. The program is fed at 12:15pm to 12:30pm and is available for download.
Texas Cotton Report – Morning program analyzes previous day's cotton trade, futures & cash markets, while the afternoon report updates the current market situation. The report is available starting at 6:45am or available for download.
Closing Commodities – A wrap-up of the commodities future trade, which include cotton, grains, cattle, hogs, & energies.
Ag Minutes – 4 one minute feature starting at 10:35am, 11:35am, 1:35pm. 2:35pm gives your listeners agri-business updates throughout the day.
TSN's exclusive, "Shoot the Bull"  Q&A session with TSN Ag-Director, Tony Purcell and TSN's, Chuck Martin discuss the latest in Texas Agriculture business & news. The feature is fed daily at 11:45am & is available for download.
Texas State Networks offers a complete agri-business programming that your station can build around. There is available local inventory in long-form programming to help increase your station's revenue. For more information please email: mailto:Raul.Jaurequi@entercom.com or call: 214.525.7223