Kelly Robinson: Manager of Technical Operations/Production Director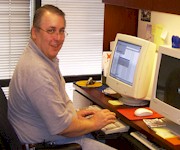 Kelly Robinson is Manager of Technical Operations and Production Director. Kelly has been with TSN or its Flagship, KRLD, since 1987. His first position with KRLD was as an Overnight Technical Operator but he later moved to afternoons and finally to Morning Drive before adding TSN Production Director to his responsibilities in 1990. In 1998 he added KRLD Creative and Imaging. 1999 brought the title (and work) of TSN Manager of Technical Operations. When TSN went digital in 2001 Kelly added Audiovault Administrator duties. Prior to moving to Dallas Kelly was a Midday Air Personality and Production Director at KKLR in Oklahoma City, an Afternoon Air Personality and Program Director at K101 in Woodward, and spent 5 years as a part-time Country DJ at KSCS.
TSN Technical Support:
If you are experiencing technical issues with your TSN Receiver please call 877-585-4876 .
This will be your primary way of communicating your technical support needs to TSN. Please refer to the following Trouble Check Off List or refer to the DCR 974 DigiCeiver Manual below before calling or emailing for technical support. The manual should be able to answer a majority of your questions.
Pre-Trouble call CHECK OFF LIST:
1) Is your receiver turned on and does it appear to be working?
2) Is it set to the correct channel?
3) Have you had any high winds that might have moved your satellite dish?
4) Is there ANY snow on the dish? (Or a bee hive?)
5) Is the program you are not receiving actually a TSN program.
6) Will TSN's coupler numbers work as a "temporary fix"?
7) Check if LNB Light is on…It should not be on.
TSN SATELLITE INFORMATION
Satellite: G16 Transponder: 1
Position: 99 degrees West
Polarity: Horizontal Dish: C-Band
Phone Coupler Line: 469.498.4876 (4TSN) #1 for TSN News
Phone Coupler Line: 469.498.4876 (4TSN) #2 for Fishing & Outdoor Channel