Barbara Schwarz – NEWS ANCHOR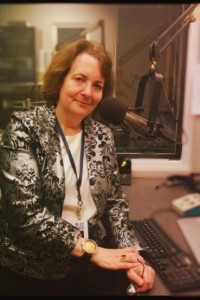 I was nearing my bachelor's degree in psychology at UTD, on the five year plan no less, when I took a video production course and had a profound "aha" moment.  I knew I had to work in broadcasting.  The first thing I ever did was run a camera at the Dallas PBS affiliate for their annual auction.  That led to a stint as a Production Assistant on their public affairs show and a career which sampled many wonderful things my field has to offer.  I've been a news director at a tiny station, commuting 40 miles each way in the dead of early morning.  I was a traffic reporter back in the day where we identified ourselves by unit number and instead of names.  (I was unit 14.) I voiced news,  soap opera updates weather  and commodities for a telephony company. (Does anyone remember calling numbers in the phone book to get their horoscope? I might have read it to you.)   I was an associate producer for the CBS D/FW affiliate, which is a fancy title for the underpaid person who does everything except anchor, direct and call the shots.
I was vacationing in New York City when planes flew into the World Trade Center.  I was the only broadcast reporter from North Texas there and covered the story for a North Texas station until I drove home several days later.
I joined Texas State Networks a month later and have been proud to call this my home.  During my time here I've numerous first place awards for excellence in journalism. Including four StatesNets awards, four Association for Women Journalists awards, two American Cancer Excellence in Journalism awards, two Texas AP Broadcasters awards and a Houston Press Club Lone Star Award.
I am a native Dallasite and first generation American.  My parents were refugees from nazi persecution and made a great life for themselves in North Texas.
I love reading, riding (horses) and good film.  And cats. And the Dallas Mavericks.